---
변경사항 (가장 최근의 "일반적인 수정"부터) (소소한 수정)

추가: 10a11,26


<blockquote>
Today's knowledge workers are yesterday's factory workers (and the day before's farmers) moving upstream in search of scarcity. (location 884)
</blockquote>

<blockquote>
Ariely demonstrated the distinction between these two realms with another experiment: He put six-packs of Coke in college dorm refrigerators. He also left plates of money. People quickly took the Coke, but didn't touch the money. They treated the Coke as "free," even though they know it costs money. But taking actual money felt like stealing. (location 1087)
</blockquote>

<blockquote>
Free is the best way to maximize the reach of some product or service, but if that's not what you're ultimately trying to do (Google is not trying to maximize snack food consumption), it can have counterproductive effects. Like every powerful tool, free must be used carefully lest it cause more harm than good. (location 1109)
</blockquote>

<blockquote>
a scarcity of whatever it is that information consumes. What information consumes is rather obvious: it consumes the attention of its recipients. Hence a wealth of information creates a poverty of attention. (location 2915)
</blockquote>




변경: 18c34

---
---
Free: The Future of a Radical Price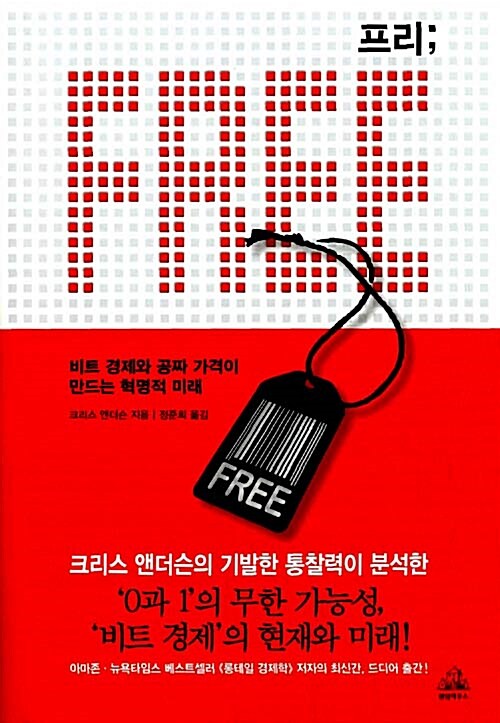 ---
디지털 시대가 되면서 컨턴츠를 통해 돈을 벌기는 점점 어려워지고 있다. 음악산업이 그렇고, 영화산업도 그렇게 되고 있다. 사회 전반적인 구조가 바뀔려는 과도기 시대라고 할 수 있는데, 이에 대한 분석과 전망이 궁금해서 구매했다.

전반적으로 공짜경제가 기존 체제에서 어떤 식으로 작용했었는지, 그리고 디지털 시대가 되면서 어떻게 변하고 있는지를 쉽고 다양한 사례를 들어서 설명하고 있다. 꽤 흥미로웠으며 쉽게 읽을 수 있었다. 하지만, 결국 어떤 식으로 사회가 변하고 어떻게 대비해야 하는가에 대해 제시하는 바가 있긴 하지만, 뭔가 부족했다.

이책의 여러 설명에 더해 오카다 토시오는 평가경제사회에서 사람들의 평판, 일종의 인기가 돈보다 더 중요해질 것이라고 보고 있다. 일면 수긍이 가는 면이 있는데 그런 식으로 사회가 변한다면(이미 변한 부분도 있지만), 어떤 사회가 되는지 사고실험이 좀 더 치밀해야할 필요가 있는 것 같다.
Today's knowledge workers are yesterday's factory workers (and the day before's farmers) moving upstream in search of scarcity. (location 884)
Ariely demonstrated the distinction between these two realms with another experiment: He put six-packs of Coke in college dorm refrigerators. He also left plates of money. People quickly took the Coke, but didn't touch the money. They treated the Coke as "free," even though they know it costs money. But taking actual money felt like stealing. (location 1087)
Free is the best way to maximize the reach of some product or service, but if that's not what you're ultimately trying to do (Google is not trying to maximize snack food consumption), it can have counterproductive effects. Like every powerful tool, free must be used carefully lest it cause more harm than good. (location 1109)
a scarcity of whatever it is that information consumes. What information consumes is rather obvious: it consumes the attention of its recipients. Hence a wealth of information creates a poverty of attention. (location 2915)
물질이 풍요로운 사회가 되면서 돈이라는 것의 가치가 기존과는 좀 달라지고 있는 것 같다. Drive나 59Seconds, 평가경제사회 등 여러 책들을 보면 그 변화에 대해 일맥상통한 뭔가를 지적하고 있는 것 같다.
앞으로 사회가 어떻게 변해갈지 굉장히 흥미진진하다. -- Nyxity 2012-2-10 2:03 pm
---
표 매기기

+1/2 -- Nyxity 2012-2-10 2:03 pm
---
책분류 | 경제분류